Babysitters in Vantaa
Babysitter in Vantaa wanted? Find your reliable babysitter in Vantaa here! We have 119 active babysitters in Vantaa matching your search criteria. Babysits gives you the peace of mind you deserve as a parent!
Babysitter Vantaa wanted? There are 119 active babysitters in Vantaa matching your search criteria.
Hei olen Sirpa ammatti lastenhoitaja jo 25v.olen hoidellut lapsia perheissä kotonani päiväkodeissa. Olen sosiaalinen joustava luotettava. Pystyn tarjoamaan lapsille virikkeellisen..
Hei, minun nimeni on Lotta ja olen hoitanut lapsia jo pienestä iästä saakka. Itselläni on pikku sisaruksia joita olen hoitanut. Käyn itse lukiota jonka ohella olisin kiinnostunut tälläisestä..
ETSITKÖ HOITOPAIKKAA? Hei, Olen 29-vuotias Vantaalta ja tarjoan hoitopaikkaa kotonani myös yön yli hoidot onnistuvat hyvin. Hoitokokemusta löytyy yli 10vuoden takaa vastasyntyneistä..
Moikka, olen 17v nuori opiskelija Vantaalta, jolla on kokemusta lastenhoidosta. Kokemusta on kiertynyt minulle osittain 5-vuotiaan pikkuveljeni hoidosta vuosien varrella. Rakastan..
Moikka! Täällä kirjoittelee 17 vuotias Riina :) Olen hyvin positiivinen, ulospäin suuntautunut, pirteä, lapsiystävällinen ja kaikkien kanssa toimeen tuleva tyttö. Harrastuksiini kuuluu..
Hei! Olen Iina ja olen kiinnostunut lastenhoidosta. Täytän vasta 15-vuotta, mutta olen koko elämäni hoitanut sisaruksiani. Minulla on 3 pikkuveljeä ja nuorimpaa olen hoitanut yksinään..
Olen aurinkoinen ja pirteä 18v lukio-opiskelija täältä Vantaan Pakkalasta (opiskelen Helsingissä lukiossa päivisin), ja olisin käytettävissä illat ja viikonloput. Kokemusta lasten..
Average response time: 9 hours
Hei, I am looking for a part-time babysitting job after my regular work. Preferably somewhere in Vantaa area, but I can also go further if we agree to some terms. My name is Mariel..
Hei! Olen Inka ja opiskelen Helsingin Medialukiossa kolmatta vuotta. Olen sosiaalinen ja iloinen, 18 vuotias tyttö. Olen kotoisin Porista, mutta tulin isoveljen perässä pääkaupunkiseudulle..
My name is Nadja Forcythe-Reid and I am 21 years old. I have worked full time as a kindergarten caregiver here in Finland as well as a private nanny back in London. I have babysat..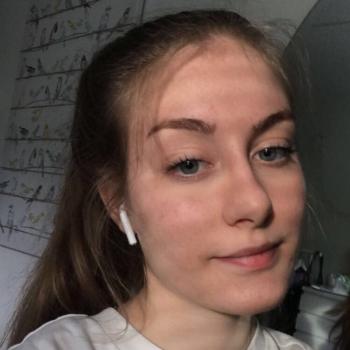 Moikka! Mun nimi on Jessica ja mä olen kohta 18-vuotias lukiolainen Vantaalta. Pidän lapsista kovasti ja olen hyvin kiinnostunut lastenvahtina toimimisesta. Sopeudun helposti kaikenlaisiin..
Hi! I am Gabriela, and I am 17 years old. I have experience sitting with 2 kids 5 and 6 years old. I am enthusiastic about this job. I can help you with some housework and help your..
Moi mä oon 16-vuotias tyttö joka opiskelee Vantaalla. Minulla on kokemusta lasten hoitamisesta, sillä olen hoitanut monesti pikkusiskoani ja kolmea siskon lastani(1-6v.). Olen luonteeltani..
Olen 29-vuotias parturi-kampaaja opiskelija Vantaalta. Olen hoitanut aikalailla kaiken ikäisiä lapsia vauvasta varhais teiniin. Olen erittäin lapsirakas ja tulen lasten kanssa todella..
Hei, Olen Venla! Rakastan lapsia, varsinkin pienempiä. Tulen hyvin toimeen lasten kanssa. Olen myös johtanut 7-9 vuotiaita lapsia partiossa. Minulla on 5 nuorempaa sisarusta, joten..
Cities nearby
Babysitters in other cities